"People who love to eat are always the best people." This is a very common saying in Canada and undoubtedly true as people who enjoy food appreciate culture, history, and identity.
Continuing our last blog on food, let's look at some regional trophies!
The Maritimes: Canada's Atlantic provinces.
The seafood here is fantastic. Oysters, fish, but most of all the lobster. A real favourite is lobster in kraft dinner.
Quebec
None of Canada's regions have contributed as much to Canadian food as Quebec – the home of poutine; but also, the Tourtière (a kind of meat pie), split pea soup (known as habitant soup), Duck magret, the most delicious maple syrup on earth and some of the best delicatessens in North America, and of course the Montreal Bagel. The Montreal Bagel is much more robust and heartier than its sickly New York cousin.
Ontario
Ontario is home to Canada's capital (Ottawa) and its largest city and financial center (Toronto). As a result, it has a very high-level dining culture with many of Canada's best restaurants and also has some of Canada's best farmland giving it excellent produce (another way to say vegetables and fruit). I have never eaten a vegetable in anything but cheezie or ketchup chip form, but I know people who have reported that the produce is very good. Toronto is also Canada's largest, most diverse city with people from absolutely every country in the world residing there: Italian, Jamaican, Turkish, Indian, and African; any food you want can be found in Toronto.
Saskatchewan and Manitoba
This is my (your humble author's) homeland. This is Canada's wheat-growing area and that can be tasted in the bread and other wheat products which are excellent here. It is also an area that had large eastern European and German settlements in the 1800s, and with them came sausages. Excellent sausages. In fact, for me sausages and bread in the rest of Canada are disappointing. The bread and sausage found their ultimate home in the prairie pizza, which does not exist anywhere else in the world. Essentially it is very thick dough with a cubic ton of sauce, meat, and cheese on top, and it requires several very strong people to lift. It is a masterpiece of gooey goodness and a triumph of human engineering. Oh, and the pieces are square which for reasons unknown to science, enhances their flavour.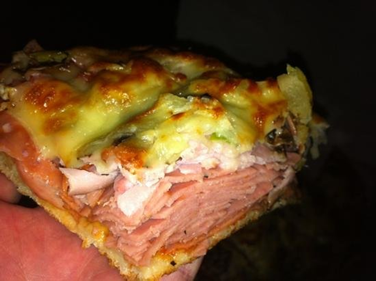 Alberta
This is Canada's ranching country so it's all about beef. Alberta beef is famous for its quality. If you want a steak the size of a truck tire (and who doesn't), this is the place to go. I would also recommend Bison which is a large furry cow, almost extinct at one time they have made a comeback and can be seen and eaten throughout Saskatchewan and Alberta,
British Columbia
Probably most famous for salmon, but there is so much more. In summer, the peaches, pears, cherries, and other fruits are fresh and delicious. In the late spring and early summer, the spot prawns come straight out of the ocean and into your stomach. It is also Canada's Pacific province and the home of Vancouver, a city which has some of the best Asian food anywhere.
Sushi, Dim Sum, Indian and Thai curries etc. and a new mix of Asian and Western food traditions give Vancouver one of the most innovative food cultures in the world – from Japanese hotdogs to Chinese Bao burgers, everything can be found here. This fusion of taste and ingredients is perfectly summed up in the California roll, which despite its name, was made by a famous Japanese sushi chef based in Vancouver named Tojo. It takes its influence from Japanese sushi and Chinese and Western food to make one unique whole. This truly reflects Vancouver as a city!
As always, look up the words and phrases you didn't understand and get back to me with comments and questions. Bon Appétite!